Charly, a 24-year-old Congolese, arrived in Cyprus in November 2021, convinced, as the smugglers had told him, that a new life full of promise awaited him. But seven months later, the asylum seeker, although allowed to work, was nowhere to be hired. Like thousands of other migrants, he is reduced to idleness and poverty.
On the way to Cyprus, Charly was full of hope. And for good reason, for this 24-year-old Congolese, this departure away from his native Democratic Republic of Congo was synonymous with promises: on the small European island, smugglers had promised him, a job awaited him and he might even continue his studies in business administration and economics. "The smugglers told me: 'That's Europe, it's going to be like France, you'll study, you'll work easy,'" details Charly.
>> To (re)read: Cyprus: how to apply for asylum and what are your rights?
Seven months after arriving in the country, Charly discovers that the opposite has happened. "The people who helped us get here told us a very different story from reality. In fact, I've been looking for work for six months," he explains. I have a work permit, but they refuse me everywhere. full ', 'There is no space', 'Have to come back later' It's always the same thing."
While it is technically possible for Charly to work in the country, the reality is more complex. In Cyprus, it is possible to work one month after applying for asylum. To exercise this right, the asylum seeker must immediately register, after this period, with the Public Employment Services and apply for a work permit. But the criteria for obtaining this permission are very selective: "You must first prove an address. It's the snake biting its tail: you want a job to pay for housing, but they ask to have a place to work", Elizabeth Kassinis, head of the Caritas migrant center in Nicosia, he told InfoMigrants in April.
Once the sesame is in your pocket, other obstacles arise for job seekers. In addition to employers' reluctance to hire asylum seekers, the professional sectors to which this category of the population has access are very restricted.
"For asylum seekers, the job market is limited to sectors that require low skills," explains Emilia Strovolidou, from the Cypriot office of the United Nations High Commissioner for Refugees (UNHCR). Among the areas within your reach: agriculture, waste management, food production (especially in slaughterhouses), cleaning, catering, hospitality.
"Nobody works"
Sectors where working hours can represent a barrier. "Most asylum seekers are offered night jobs, but the lack of public transport at night is hampering their employment opportunities," explains the expert.
Charly, he applied in "15 or 20 different places". "I tested the cleaning sector, masonry, hotels, restaurants… Nothing worked", he despairs. The same for the studies: Charly can't register, or at least understand the steps to be taken.
>> To (re)read: "It was an easy gateway to Europe": Cyprus, a country increasingly popular with African migrants
Therefore, he now spends his new life within four walls. "I stay at home most of the day," he says. I'm watching movies, I'm on my phone…"
The Congolese lives in Ayia Napa, in the east of the country, in a house that he rents with six other asylum seekers, all from the DRC and who arrived at the end of 2021. coming to the island, a mandatory stop for migrants where living conditions are deplorable. Everyone faces the same problems as Charly. "No one is working", sums up the latter.
Technically, once granted refugee status, a foreigner has access to the same jobs as Cypriot citizens. But it takes, on average, three years for an asylum application procedure to succeed, according to Emilia Strovolidou.
poverty line
This forced idleness has serious consequences for the island's migrant population. "The vast majority of asylum seekers live in urban areas, but are forced to share inadequate accommodation with others due to lack of access to employment and the scant housing allowance they receive," continues Emilia Strovolidou.
This compensation amounts to 365 euros per person to cover accommodation, food, clothing and expenses. "This amount is below the guaranteed minimum income, he comments. It is below the poverty line, which puts asylum seekers at risk of being exploited and ending up homeless." Result: the number of homeless people has been increasing in the country since 2017.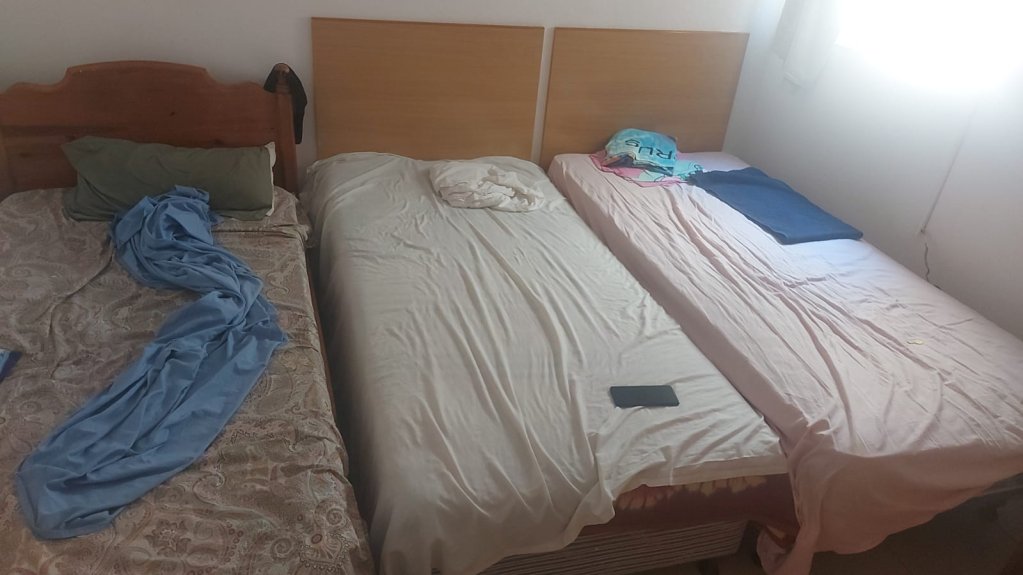 Charly explains receiving 260 euros a month. One hundred euros is paid directly by the Cypriot State to its lessor. The house he rents has only two cramped rooms. Each of them sleeps six people. "There really isn't a lot of space and with the heat wave it's very difficult for us."
>> To (re)read: In Cyprus "overwhelmed" by asylum applications, migrants live "in deep misery"
The only lifeline the young man clings to: his father, exiled in France for almost 20 years. He hopes to join him, away from the Cypriot trap, once his asylum application is processed, without knowing how and when that will be possible.
Since the beginning of 2022, more than 12,000 new asylum applications have been registered in the country, according to UNHCR data. They are added to the 24,915 cases still pending and the other 6,752 that are in the appeal process.