Samuel Rainville
Credit: Amélie Philibert, University of Montreal
Leaving their community to study in Montreal can be a loss of direction for Aboriginal students.
In order to facilitate and optimize your university career, both upstream and downstream, the University of Montreal opened, in 2019, the First Peoples Student Center (CEPP), which is linked to Student Life Services.
"Establishing a center dedicated to supporting the success of members of the Aboriginal student community is a key step in the institutional framework of Place aux Premiers Peuples," said Samuel Rainville, UofM's Senior Advisor for First Peoples Relations.
The Center offers personalized support to meet the needs of each one, directing them to the appropriate services, in addition to offering various activities and a safe cultural space inside the Uatik hall – which means "den" in the Innu language.
A place of anchoring and enriching exchanges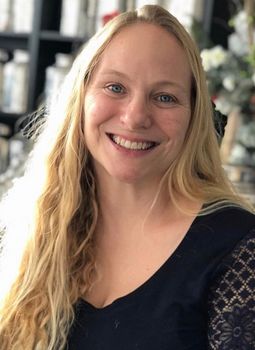 Annie Tremblay
Credit: Annie Tremblay
Hailing from the Mi'kmaq community of Gespeg in Gaspésie, Annie Tremblay is one of around 80 Aboriginal students who attend UofM and for whom the First Peoples Student Center is an anchor point.
"CEPP and the Uatik fair offer me the possibility of having a physical place where I can flourish as an Aboriginal and meet other students from different nations to expand my network", attests the student. Health at UdeM.
"The Center is a gateway that allows me to be directed to the resources that are available to First Nations at the University and the Uatik lounge is a place where I can make tangible contacts, participate in cultural activities and gain a broader view of the various specializations from an Aboriginal point of view. It's very gratifying," continues Annie Tremblay.
Support before, during and after university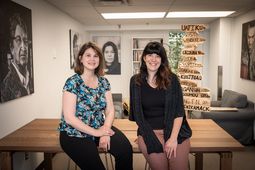 Melanie Lumsden and Eliane Santschi
Credit: Amélie Philibert, University of Montreal
CEPP's role is to accompany First Nations, Métis and Inuit students from beginning to end of their university career and maintain a bond with them after graduation. To this end, the Center organizes various activities and continuously improves the range of services available at UdeM.
"The Center participates in celebrating the success and engagement of Aboriginal students," says Mélanie Lumsden, CEPP coordinator and member of the Inuvialuit Nation of the Northwest Territories. Attending university is already a success in itself for Aboriginal students and we highlight all of their successes and their commitment because it is the next generation that will influence the world of tomorrow and we are proud of that."
CEPP also collaborates with liaison officer Eliane Santschi, who works with Quebec's aboriginal communities as part of the project Rethinking Perseverance with First Peoples on the Cap Campus, another initiative of the Lugar dos Primeiras Povos action. "The goal is for the Université de Montréal to become an ally in the communities to encourage the perseverance of young people and not just bring them to its campuses", she specifies.
"Leaving the community leads to a huge loss of direction and our task is to make the idea of ​​continuing studies attractive and possible, whether to obtain a professional degree, go to CEGEP or even university", adds Eliane Santschi.
"Indigenous youth in communities need indigenous models of perseverance to be able to project themselves and our students and graduates will visit communities to let young people know that there is a place for them to be an indigenous post-secondary student and proud of their identity. Aboriginal," she continues.
With the Rethinking Perseverance project, Eliane Santschi also wants to build bridges between the aboriginal youth of the communities and the non-aboriginal and non-aboriginal students of the Université de Montréal: "In October, we will go to Wemotaci to organize immersive games in which young people will discover different fields of Next year, we will invite young Aboriginal people to visit Montreal."
Eliane Santschi insists on the fact that these projects are developed in collaboration with the communities. "We talk, we listen and we dedicate the necessary time so that the activities respect the expertise of the communities that know their young people", she insists.
Working in the Sept-Îles field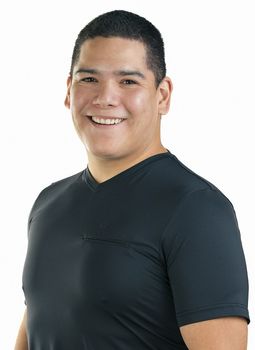 Dan Alexander McKenzie
Credit: Julien Choquette – Photo Impression JC
Working closely together is precisely what drives Dan-Alexandre McKenzie, mentor and support agent for post-secondary Aboriginal students at Uashat mak Mani-Utenam.
From Sept-Îles, in conjunction with UdeM's First Peoples Student Center, Dan-Alexandre McKenzie works each semester with 150 to 170 Aboriginal youth from across Quebec who plan to continue their studies at college or university.
"I am in contact with a large number of interested parties from all regions to network and get to know the different environments frequented by our students, to later familiarize myself with the services offered to them in the different educational institutions. , explains. This allows me to better inform and support young and old people before they decide to move to study or during training."
"My approaches allow me to establish, with the students, the steps that will allow them to continue their journey, reassure them and, above all, provide them with the information they need when they need it", concludes the one who defines himself as resource source.
"You don't have to be the same to be united"
While there are a large number of indigenous communities and cultures in Quebec and Canada, the University of Montreal's First Peoples Student Center acts as a unifier of this diversity for those who attend or will attend UofM. .
"We all have in common the fact that we are members of indigenous communities, Métis or Inuit, and that we have a history and a culture that unite us", underlines Mélanie Lumsden. We don't need to be the same to be united or want to connect or reconnect with our cultures: we have to feel comfortable with diversity by showing respect, openness and listening to each other.
Student Annie Tremblay agrees: "There comes a time in our lives when we feel the need to get closer to our own essence in order to make optimal choices as a person and, for that, it is essential to know our culture and our roots."
"Let's learn to connect with it and be proud of it. This is true for people from Aboriginal communities as well as Quebecers and Canadians. We all need to get to know each other better and activities like the National Day of Truth and Reconciliation and the National Day of Indigenous Peoples are a good way to make students aware of our cultures, whether they are indigenous or foreign," she says.