"When I told a Lebanese friend who lived in Paris that I was going to Lebanon in September to do my bachelor's degree, he called me unconscious and described life in the country as a hell that fled without regrets", laughs Marie Destoppeleir, who is in her third year of bachelor's degree in political science at Saint-Joseph University (USJ). "He told me about the anarchy that reigns there, the lack of water and electricity, the economic crisis. I was scared, of course, and I hesitated to come. But even so, I jumped at the chance when I saw that there was an exchange opportunity at USJ within the scope of Erasmus (European student and professor exchange program between universities around the world, editor's note). This 19-year-old Frenchwoman, who admits "that when she chose Lebanon, she knew she wouldn't have the same luxury as in other countries", admits "that she thought, from the beginning, that she would never get there". In Beirut, the political science student "hardly" gets used to the frequent lack of water in her apartment, lives to the rhythm of power cuts and learns to deal with the vagaries of the internet.
Maria Destoppeleiro. Photo Gwendoline Magri
"Oddly, after a week, I adapted to all this, and I felt extremely well and, above all, safe in this country that I am visiting for the first time", she happily confesses. To the question "Why did you choose Lebanon today when it is going through one of the worst periods of its existence?" the young woman replies that "it is the region that interests her" and that "for a long time" she has been "in love with the countries of the Middle East". She adds that today she is "captivated by Beirut, its diversity of cultures, languages ​​and different religions that coexist", admitting, however, to be shocked by "the lack of waste management in the streets and the destruction of neighborhoods and buildings destroyed by the explosion ", but "that she feels very good despite the chaotic life of this overly captivating country".
Emma Bonnet. Photo Antoine Kosher
Lebanese adaptability is impressive
Same impression for Emma Bonnet, a French student who chose to pursue a master's degree in political science at USJ to work mainly with geopolitics and the history of conflicts in the Middle East. "Lebanon lends itself very well to what I want to do, and no other country in the region interests me as much," she says, still admitting that she hesitated a lot before taking the plunge. "It was very difficult to have an objective point of view on the situation in the country, each media in France giving its version of events. But for me it was important to go there. I have been there since September and I have no regrets," she says. However, upon arrival, Emma admits to having been confused by the country's lack of infrastructure, the anarchy that reigns on the roads and, above all, the lack of water and electricity in her apartment on rue Monnot. "A real shock. I felt like I couldn't. I was lost and felt completely isolated from the world, especially without the internet. We may be warned, but we are never prepared enough," she says softly. "But strangely, like all Lebanese, I learned to survive and above all to adapt to these rather surprising conditions. And I admit that after a week, I felt very comfortable in this new life, mainly because at the university the students are very receptive and attentive, and the professors are very close", she says before raising "the high level of the courses", where she didn't find much difference with France. And when asked what she likes about this country, she spontaneously responds: "The ease of adaptation of the Lebanese. "I follow their example, I find solutions for everything. The young student knows that on the day when she can't put up with this chaotic life anymore, her place awaits her at her university in Lyon."That's what makes the situation easier to accept," she admits.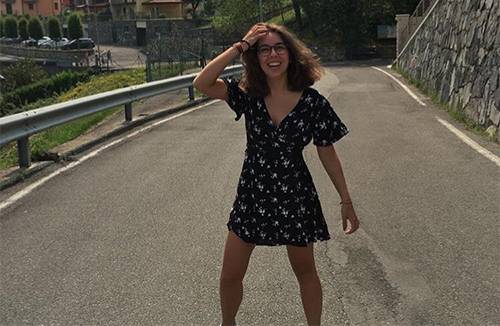 Maria Garriga Zamora. Photo Erika Galleta
While many young Lebanese leave to study in Spain, Maria Garriga Zamora chose to attend her third year of political science in Lebanon, at the Libanese American University (LAU). "Obviously I had seen all the problems after the 4th of August explosion, the economic crisis, the social situation. I was advised not to go there. But I found that as a student of political science and international relations, with a specialization in the Middle East, it was important to be there to better understand the region. And Lebanon interests me a lot, especially after what happened during the revolution," she says. Despite her apprehension, the young Spaniard decides to go there and realizes that "it's not that catastrophic". "I expected to see a much more chaotic city, plunged into darkness, which was not the case", she adds. Today, when the electricity goes out, I continue my conversation as if nothing had happened, she says with a laugh, admitting that it is "the submission of the Lebanese people" who get used to everything and accept the absence of "rights they should have as naturally as possible" which disturbs her far more than the cuts and chaos of the city.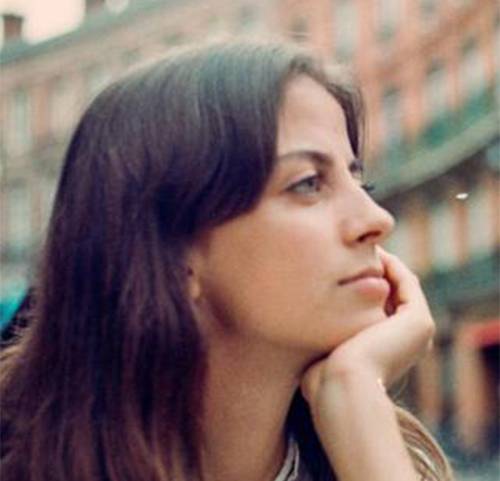 Inês Robin. Photo Malik Lassoued
My love for Lebanon is visceral and I can't explain it
In December 2020, passing through Lebanon as part of an internship at a Lebanese daily, Agnès Robini moved to the heart of Mar Mikhaël, and very quickly fell in love with this country, "like many foreigners", she says to clarify. "I have always been fascinated by the Middle East, and when I had the opportunity to work in Lebanon, I jumped at the chance. Since then, I haven't left him", says the young student. And yet, like the other students, Agnès has known from the beginning the anarchy of life in Lebanon, she lives to the rhythm of electricity and internet cuts, but then easily adapts to incongruous situations. At the end of her stay, she was forced to return to France to continue her studies, and was shocked, upon her arrival, by the difference between Charles-de-Gaulle airport "where everything was super-lit, hyper-luxurious, a real waste ", she will say, thinking of the Beirut state airport and the city without electricity or infrastructure. He misses Lebanon, its chaos too. She then decided to move back to permanent residence in Beirut last April and enrolled in a master's degree in information and communication at USJ. If Agnès is still under Beirut's spell, she admits that a year after the August 4th explosion, it's the sadness of the place that hurts her so much. "The university on rue de Damas today looks like a ghost campus often plunged into darkness, like most streets" of this city she knew "alive, lively and so captivating". Why does she love Lebanon so much then? She spontaneously responds that she cannot respond and explain her feelings. "It's visceral, it can't be described. And this is also the feeling of all expatriates arriving in Lebanon. They are driven by the generosity of the Lebanese. They fall in love with this country and don't want to leave it anymore. »
Maelle Liut, a French student who chose to take her third year of political science at the American University of Beirut (AUB), admits that it is "the quality of teaching at AUB, although listed in this sector", but also "the few restrictions linked to the Covid in the country" and above all her "interest in this part of the Middle East" that weighed on her decision. But when she arrives, it is a surprise for the young woman. "I had seen so many media reports that described Lebanon as a country immersed in the darkness, totally lacking in water and medicine, in one of the most terrible crises, which I found very bearable. us", she says. corner, more particularly with the beggars who cling to passers-by, and the rather sophisticated atmosphere of the AUB students. Two worlds so different and so disturbing. She admits, however, that "taking online classes with power cuts of two hours in the morning and two hours in the evening was not so obvious, but that face-to-face teaching afterwards proved to be a very good experience". Contacting teachers is much easier and more horizontal than in France, where a teacher will never offer to contact you in case of problems, she says. "With the students, we had to struggle to socialize, but once the current passed, the Lebanese find their nature very welcoming and above all very optimistic," she adds. In our country, the slightest reform unleashes demonstrations and the indignation of the people. The Lebanese take the blows more easily, adapt and think it's just a bad period and they'll get out of it very soon," says Maelle.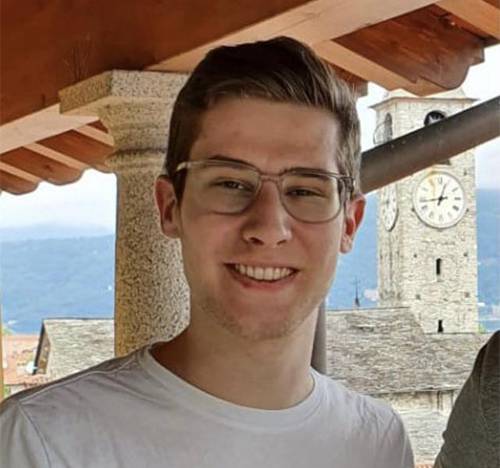 Timo Lehaen. Photo Brigitte Van Der Horst
In Lebanon, I learned to relativize
It is through the Global Campus of Human Rights, a group of universities that offers training in several countries, that Timo Lehaen decides to leave Belgium and pursue a master's degree in human rights in Lebanon. If this Belgian student admits that he "has always been interested in the Middle East region, he admits that he chose Lebanon much more for what the university program offered than for the country itself". "I knew that Lebanon was going through a very serious financial and social crisis, so I decided to go there to sort things out. The young man mustered up the courage and enrolled at the university in Lebanon in September. After the first shock facing a unique daily life in the world, he adapts and admits, after a few weeks living in Lebanon, that "it is not as unbearable as they say". "As foreigners, we have the means to pay and largely compensate for what we lack. If we don't have energy at night, for example, we go to a restaurant for dinner without thinking twice about the cost of the bill. If the internet is cut off, we settle into a cybercafé to work calmly, we have purchasing power that represents a great advantage in Lebanon today and, above all, we have the possibility to leave the country if the situation becomes unbearable for us. Timo Lehaen believes he learned a lot living in this country. "I realized how lucky you are to live in countries where you don't have to fight for rights you should have for free. Above all, I learned to put things in perspective in life. And that's the best lesson this country has given me. »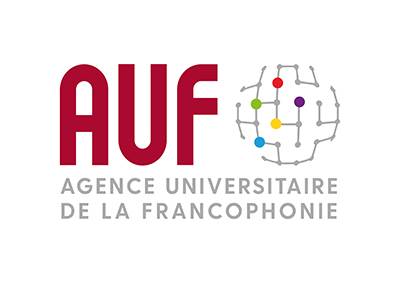 "When I told a Lebanese friend who lived in Paris that I was going to Lebanon in September to do my bachelor's degree, he called me unconscious and described life in the country as a hell that fled with no regrets", laughs Marie Destoppeleir, who is performing her third year of degree in political science at the University of Saint-Joseph…