Nearly 7 out of 10 people attending the University of Montreal are women, according to official statistics from the Office of the Registrar for the fall 2021 term. combined cycles, they represent 68% of the student body. This proportion has been essentially the same for over 25 years.
Although the increase in the number of women with access to higher education has taken giant steps since the 1970s, there was a time when they were few and, above all, present in programs specifically reserved for them.
Thanks to the collaboration of the Document and Archive Management Division of UdeM*, here is a little trip back in time for our grandmothers, great-grandparents or great-grandparents, depending on the generation to which each one belongs!
Programs that resemble "female ghettos"
"Marcelle Gauvreau at the Botanical Institute", January 1939. Personal secretary to Conrad Kirouac, alias Brother Marie-Victorin, Mrs. Gauvreau was the first French-speaking Quebecois to earn a master's degree in natural sciences that year.
Credit: Marcel Cailloux
111 years ago, the University first awarded a degree to a woman: Marie Gérin-Lajoie – who would become a leading figure of feminism in Quebec in the last century – in 1911 obtained a Bachelor of Arts degree from Laval University in Montreal (A UdeM was then a "branch" of the Quebec establishment).
Almost 30 years later, in 1939, Marcelle Gauvreau was the first French-speaking woman in Quebec to earn a master's degree in natural sciences. A UdeM graduate and a pioneer of preschool education in Quebec, Ms.I Gauvreau was notably the personal secretary of Conrad Kirouac, alias Brother Marie-Victorin.
But these were extremely rare "cases".
Indeed, "girls have long been absent from higher education […]. They formed "female ghettos" [en sciences infirmières, en technologie médicale ou en réadaptation]», according to historian Johanne Collin**.
In addition, the University of Montreal had its school of domestic sciences in 1957, "where the young woman learned the importance and beauty of her threefold role as wife, mother and housewife," wrote Denise Pelissier in Detailed digital directory of the Provincial Household School Fund, published in 1979.
Progressive access to higher education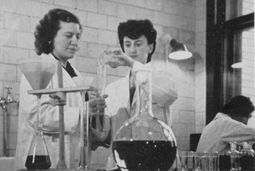 "Three women working in a histology laboratory", 1943
During a lunchtime debate held in 1989 at UdeM on the occasion of International Women's Day, Johanne Collin, professor of sociology and history of health, highlighted that before the creation of CEGEPs in 1967, "the conditions for admission to university studies varied considerably from one college to another: some required a Bachelor of Arts degree and therefore only admitted graduates of classical colleges, while others also accepted female students aged 11and or a 12and year and, therefore, of the public sector".
During this debate, which had as its theme "The dynamics of sexual relations at the University of Montreal, 1940-1980", Ms.I Collin recalled that "the faculties of medicine, law, pharmacy and dentistry remained, until the creation of the CEGEPs, faculties closed to the public sector. […] And women with very little access to classical colleges were necessarily less likely than men to be able to study at these traditional and prestigious colleges."
Johanne Collin adds that it is "through colleges, schools and new programs explicitly aimed at women – nursing, dietetics, rehabilitation and others – that women had access from the 1940s and 1950s to vocational education at UdeM". And, again, these programs generally had lower admission requirements than colleges leading to traditional liberal professions, some even transferring to CEGEPs after these establishments were created.
It is also from this moment that we saw women enter these faculties. MI Collin mentions that in pharmacy the proportion of female employees increased from 15% in 1960 to 60% in 1980, while in optometry it jumped from 8% to 64% in the same period.
* A very special thanks to Éléonore Aubut-Robitaille, from the Document and Archives Management Division at UdeM.
**Some elements mentioned in this text are taken from an article by Forum released on March 6, 2000.
Some "first in class" from UdeM
First graduate: Marie Gérin-Lajoie, Bachelor of Arts, 1911
First executive: Germaine Cornez, chief secretary, 1920
First support employee: E. Laplante, rectory stenographer, 1921
First graduate: Flora Abergson, Faculty of Dental Surgery, 1921
First speaker: Marie-Claire Daveluy, School of Librarians, 1938
First professional: C. Rinfret, librarian, 1943
First Dean: Alice Girard, Faculty of Nursing, 1962
First union president: Simone Guillet, Libraries (SNEUM), 1965
First Secretary General: Juliette Barcelo, 1974
First Merchant: Carole Audy, Security, 1986
First Vice Chancellor: Claire McNicoll, Vice Chancellor of Public Affairs, 1991
Sources: University of Montreal, Division of Document and Archive Management, General Secretariat Fund (D35): 1876-1951. D35/47. General Directory of the University of Montreal. University of Montreal, Division of Document Management and Archives, Faculty of Science Funds (E96): E96/B2,28. Standing Committee on the Status of Women. Human resources department.