On June 9, 2022, Jean Monnet University and its partners opened their new joint document security laboratory, the LAMCID- Lasers, Materials and Colors for Citizen Identity Documents. It is the result of a scientific collaboration started in 2016 between the Hubert Curien laboratory (UJM, CNRS, IOGS) and the Austin-based global group HID Global, which provides solutions for identity security and access to physical and digital information. places.
The creation of LAMCID stems from the the unique association of public research actors with an international group, HID Global. The partners chose to establish their collaboration in Saint-Étienne, on the University's Manufacture campus in the Forges building, unique environment of creation and innovation.
LAMCID researchers and partners (CNRS, HID Global, Laboratoire Hubert Curien, UJM)
© Jean Monnet University
Protecting the authenticity of identity documents is an important social and economic issue. After 7 years of collaboration, the creation of LAMCID will provide citizens with innovative solutions for identity documents. The joint laboratory will rely on the know-how of HID's Research and Development Divisionthat designs identification documents from complex plastic cards and technological innovations from the Hubert Curien laboratory in the photonic field, in particular laser personalization processes.
Example of image multiplexing laser personalization
® Hubert Curien Laboratory
The joint research laboratory LAMCID aims to develop joint applied research projects over the next two years, using laser technology, printing color images or multiplexed images. This very secure technique will make it possible to deal with counterfeiting, one of the main concerns in the field of security.


Laser technology, one of the many technological specialties of the Hubert Curien laboratory
® Hubert Curien Laboratory
Proximity between LAMCID actors will allow facilitate the implementation of joint research projectsof share resources but also from encourage the emergence of new joint projects, particularly around the innovations being developed in emerging polymeric materials (eg for the development of new generations of ID cards.) thanks to the presence on the campus of the FlusCriTex technology platform of the Polymeric Materials Engineering (IMP) laboratory.
The new joint LAMCID laboratory is a good illustration of the need to anchor and structure the relationships that exist between actors in the industrial and academic worlds. Highly integrated form of partnership research which includes governance and common means around a scientific topic whose importance is also shared, will facilitate the transfer of research results to industry.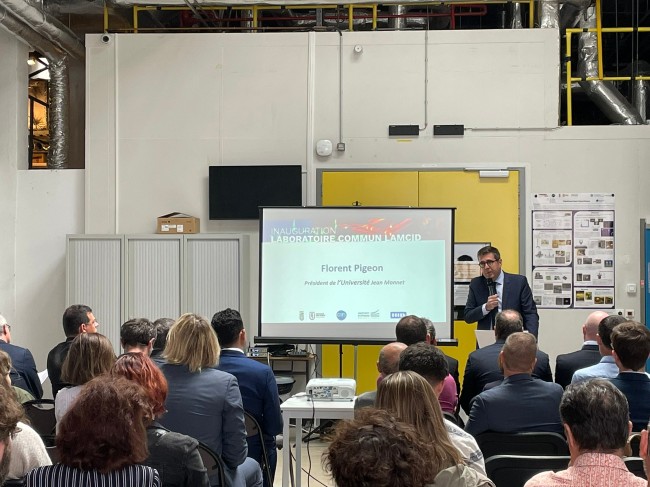 Inaugural speech by Florent Pigeon, President of Jean Monnet University, at the launch of LAMCID
– Photo Jean Monnet University
"The installation of #LAMCID enriches the Campus Manufacture ecosystem, which has managed to closely associate the academic and economic worlds, thanks to the recognized experience of the Hubert Curien laboratory in the field of surface engineering. »
Florent Pigeon, President of Jean Monnet University